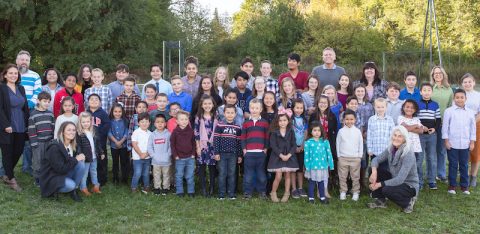 Mission Statement
The Mid Columbia Adventist Christian School family exists to show children Jesus, nurture their love for Him and others, teach them to think and empower them to serve.

Our Mission
The Mid Columbia Adventist Christian School is operated by the Seventh-day Adventist Church to provide a spiritually oriented education for children. We seek to develop a life of faith in God and respect for the dignity of all human beings; to build character akin to that of the Creator; to nurture thinkers rather than mere reflectors of others' thoughts; to promote loving service rather than selfish ambition; to ensure maximum development of each individual's potential; and to embrace all that is true, good, and beautiful. An education of this kind imparts far more than academic knowledge. It fosters a balanced development of the whole person - physically, intellectually, socially, and spiritually. Working together, school, homes, and churches cooperate with divine agencies in preparing learners for responsible citizenship in this world and in the world to come.
Objectives
To lead students to accept Jesus as the Lord of their lives. To lead them to trust Him alone, as their personal Savior and to share Him with others.
 
To establish confidence in the Bible through a growing understanding of its truths, so that its study will become a permanent part of their daily lives.
 
To nurture within students the joy of serving others with love and respect.
 
To enable students to grow physically, mentally, and spiritually towards their individual potential.
 
To develop in students a noble Christian character that includes habits of honesty, purity, loyalty, responsibility, and good citizenship.
 
To develop good work habits, that include; industry, accuracy, creativity, and punctuality.
 
To exercise sound judgment based on the ability to do independent, creative, critical thinking, and not to be mere reflectors of others' thoughts.
 
To recognize that the body is God's temple and to reach a high standard of physical fitness gained through healthful habits of temperance and regular exercise.
"And all your children will be taught of the Lord, and great will be the peace of your children." - Isaiah 54:13